Entrepreneurship Day Brabant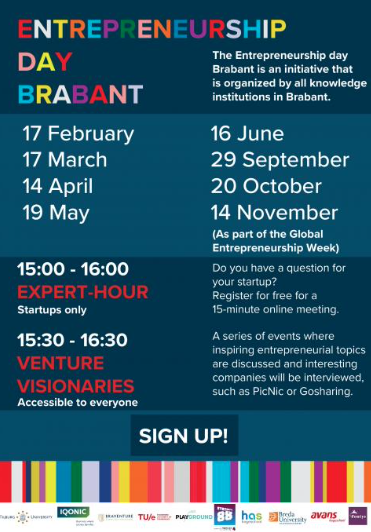 9:00 – 12:00 | Accelerator Program: Workshop Finances and funding
Are you that startup with a great idea, a validated Business Model and the ambition to grow? Then sign up for the accelerator program!
In this program you will work with other startups in the same phase, with the help of experts, on marketing, sales, negotiating, financing, pitching, branding and the legal side of your startup. You will get in touch with other startups, experts and the broad network of alumni entrepreneurs who will mentor you in the growth and development of your startup. Continuous validation of your business model is key.
Want to know more or register? iqonic@tilburguniversity.edu
12:00 | Entrepreneurship Lunch
Meet fellow entrepreneurs over a nice lunch.
15:00 – 16:00 | Expert-Hour
Do you have a question for your startup? Register for free for a 15-minute online meeting through mijn.braventure.nl
15:30 – 16:30 | Venture Visionaries
Together with Avans, Buas, Fontys, HAS, JADS, TU/e, Station88 and Braventure, we present a series of events where inspiring entrepreneurial topics are discussed and interesting companies, founded by Dutch Entrepreneurs, will be interviewed. All partners have committed to this series of monthly entrepreneurship events. Each month a different partner will be the host of the event. These events are accessible online to all students and other people interested. Further information about which speakers will be present at this edition of Venture Visionaries will follow.