Erasmus Enterprise x KPN
February 1, 2022 @ 3:00 pm

-

6:00 pm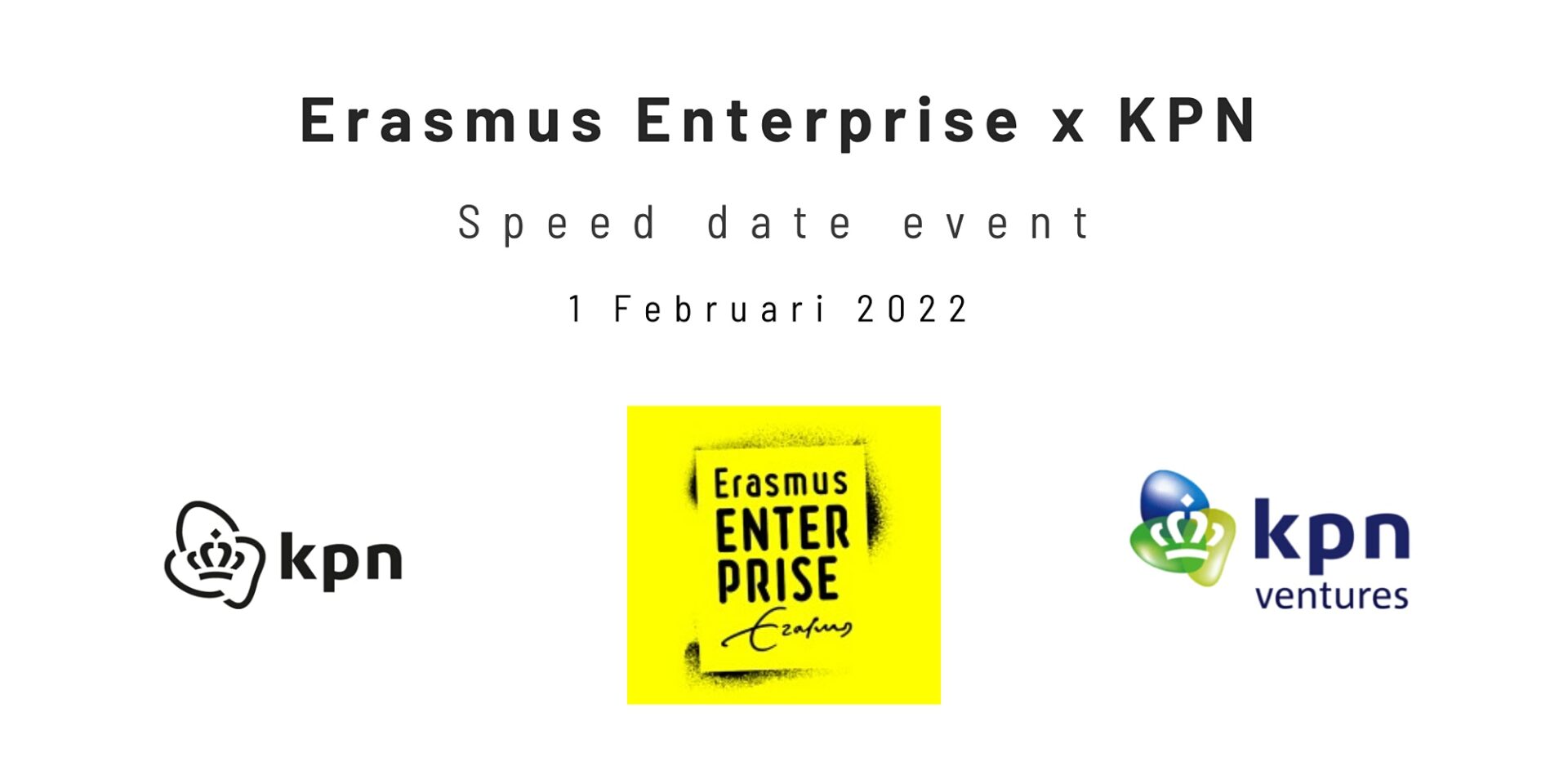 Op 1 februari 2022 organiseren Erasmus Enterpise, KPN Liaison Management en KPN Ventures een speeddate event.
Doel
Het doel van dit even is openen van de deuren van KPN en KPN Ventures voor het ecosysteem van Erasmus Enterprise
Programma
15:00 – 15:10 – Opening event – Ernst Hoestra
15:10 – 15:25 – Short intro of KPN and the Startup an Scaleup ecosystem, the Liaison Management team and KPN Ventures
15:25 – 15:40 1st round of speed dates
15:45 – 16:00 2nd round of speed dates
16:05 – 16:20 3rd round of speed dates
16:25 – 16:40 4th round of speed dates
16:45- 17:00 5th round of speed dates
17:05 – 17:20 6th round of speed dates
17:20 – 18:00 Networking drinks
Speeddates
Je kunt je inschrijven voor 2 soorten speeddates;
• KPN Liaison Management: Zoekt naar win-win partnerships met Startups en Scaleups die een oplossing kunnen bieden bij uitdagingen waar KPN een antwoord op zoekt. Bijvoorbeeld op het gebied van 5g oplossingen, netwerk optimalisatie, connected devices, advanced analytics en health. Zie www.kpn.com/innovatie
• KPN Ventures: Zoekt naar partijen die ze kunnen helpen met toegang tot kapitaal, expertise, ons professionele netwerk en evt toegang tot onze klanten. Focus ligt op strategisch gerelateerde scaleups met een minimale omzet van 500k. Zie www.kpnventures.com
Inschrijven voor een speeddate? Koop een ticket en vermeld hier bij duidelijk wat jouw organisatie doet!
*Let op: het evenement zal fysiek plaatsvinden onder de voorwaarde dat de actuele COVID-19 maatregelen dat toelaten.*
Een week voor aanvang van het event worden de speeddates bekend gemaakt.