onAir
March 29, 2022 @ 11:00 am

-

11:45 am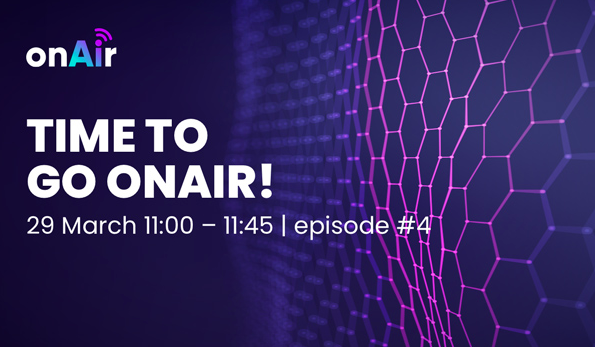 Interested in doing more with AI? Sign up for the fourth episode of onAIr, to be held on Tuesday 29 March. Tune in for the latest AI insights from representatives of ASML and TNO. This episode is packed with AI use cases, AI experts and AI start-ups.
Interactive, creative and inspiring: onAIr is here to keep you informed.
onAIr #4 line-up
In this episode we have technology giant ASML, Arnaud Hubaux, Product Cluster Manager, at the table to share their lessons about AI in manufacturing. TNO, Joris Sijs Lead scientist AI and Autonomous Systems, brings robot dog Spot by Boston Dynamics to the studio to tell us how this machine can help organizations operate more safely and efficiently. Start-up Loop Robots keeps our hospitals safe by putting disinfectant UV-lights by Signify on a self-steering platform. We take a look at progress of the autonomous ships in the port of Rotterdam by Captain AI. And Martin Hagoort of Intellerts will once again debunk a common AI myth. This is an episode you don't want to miss. So join us, at onAIr.
But first: time to sign up!
onAIr aims to keep you informed of the latest insights and developments in AI. You can also ask questions live during the broadcast. Sign up now for onAIr – it's free!
Related Events