PyData Eindhoven Meetup – Back to Face-to-Face Meetups
July 21, 2022 @ 5:45 pm

-

9:00 pm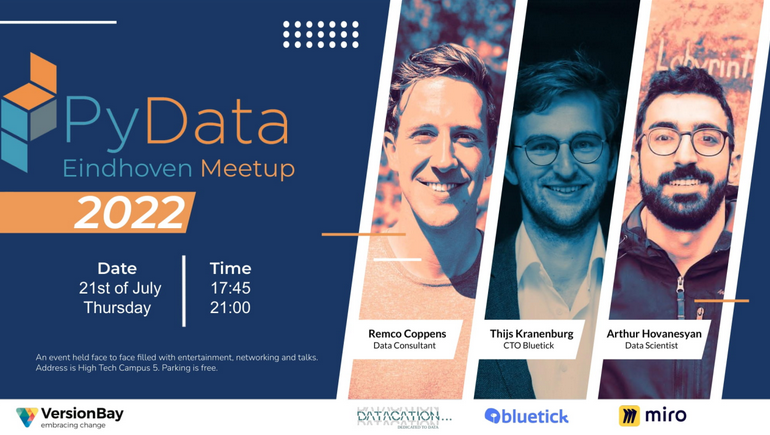 It is time to get back to face-to-face meetings and for the PyData Eindhoven community to come together again. Join us on the 21st of July at the High Tech Campus for an evening of technical talks for technical people.
We were humbled by the large interest in presenting at PyData Eindhoven, but unfortunately, there were not enough speaker slots for this event. However, we will keep all submitted talks in mind for future events and reach out to those who did not get a chance to share their stories.
This PyData Eindhoven Meetup will be hosted by VersionBay (www.versionbay.com) at the High Tech Campus in Eindhoven.
Agenda:
17:45 – Doors open
18:00 – Learning adaptive evolutionary computation for solving multi-objective optimization problems – Remco from Datacation
18:30 – Dinner/Drinks
19:15 – Training a semantic similarity model with no hand-labelled data – Thijs from Bluetick
19:45 – Designing and building Miro's clustering feature – Arthur from Miro
20:15 – Drinks and networking
***
Title: Learning adaptive evolutionary computation for solving multi-objective optimization problems
Description:
Multi-objective evolutionary algorithms (MOEAs) are widely used to solve multi-objective (combinatorial) optimization problems. However, to work properly these algorithms rely on setting appropriate parameters to find good solutions. Finding these values is a very computationally expensive task, especially for non-trial combinatorial optimization problems. To mitigate the high computational cost of MOEAs and to remove the need to tune the parameters, Adaptive Parameter Control (APC) is implemented using Deep Reinforcement Learning (DRL). A DRL agent is changed to dynamically change the behaviour of the used MOEA to tailor its behaviour to the current level of attained optimization performance, resulting in a significant gain in optimization speed and solution quality.
Presenter: Remco Coppens
https://www.linkedin.com/in/remco-coppens/
Company: Datacation
—
Title: Training a semantic similarity model with no hand-labelled data
Description:
In this talk I am going to explain how we created a legal semantic similarity model with almost no labelled data and how we had to use our creativity. I am going to explain the iterations we went through in the past years with the pitfalls, considerations, what failed, and what succeeded. Finally, I am going to elaborate on how we combine this semantic textual similarity with structured information extracted from the law.
Presenter: Thijs Kranenburg
https://www.linkedin.com/in/thijs-kranenburg/
Company: Bluetick
—
Title: Designing and building Miro's clustering feature
Description:
In this talk I will walk through the Data Science but also the product and design work needed to create an intelligent feature that can delight users by making their mundane tasks more efficient. As appealing automating boring tasks with Machine Learning may sound, doing so blindly may actually displease the users.
Presenter: Arthur Hovanesyan
https://www.linkedin.com/in/arthur-hovanesyan/
Company: Miro
***
Attendee profile:
People who want to learn about Python, Julia in the context of Data
Interested in seeing how others use Python for solving real problems
Interested in being part of the Python Community in Eindhoven
No Recruiters
No Sales
Only people who speak Data
Related Events