Toasts for Teams: Shake it till you make it!
February 22, 2022 @ 7:00 pm

-

9:00 pm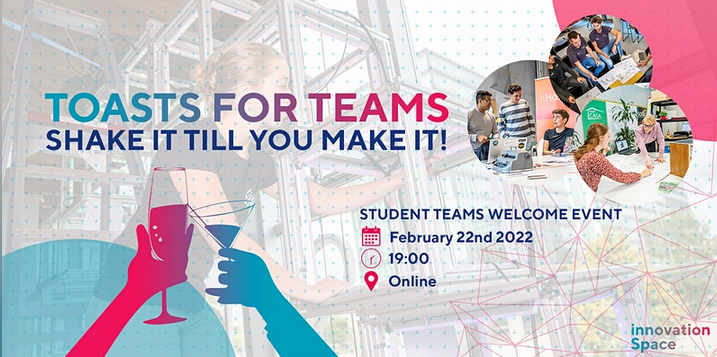 We have reached a new phase in the Student Teams community at Eindhoven University of Technology!
And whilst the transition is going on the background it is first time to celebrate this milestone.
Therefore innovation Space is hosting:
Toasts for Teams!!!
Toasts for Teams is a two part event. From 15:00, we will start with 'Tours for Teams' offline event, where we would like to invite 1-3 representatives of your Student Team to be present in innovation Space and learn what facilities, help and support you can get at innoSpace and who can help you with what. (We highly recommend joining this part if you're team is new to the innovation Space community)
From 19:00 we would like to invite all Student Teams' members to join online community event in which you'll all learn to make famous cocktails by professional bar tenders, improve your knowledge on flavor combinations and most importantly, toast for a new future of all Student Teams! Not convinced yet? Check this video to get you excited: BarsOnSight
Get together in Covid-19 proof groups and enjoy a fun evening together with all the Student Teams and TU/e innovation Space.
Hope to see you on the 22nd of February!
Where we'll shake it until we make it!
Cheers!
TU/e innovation Space